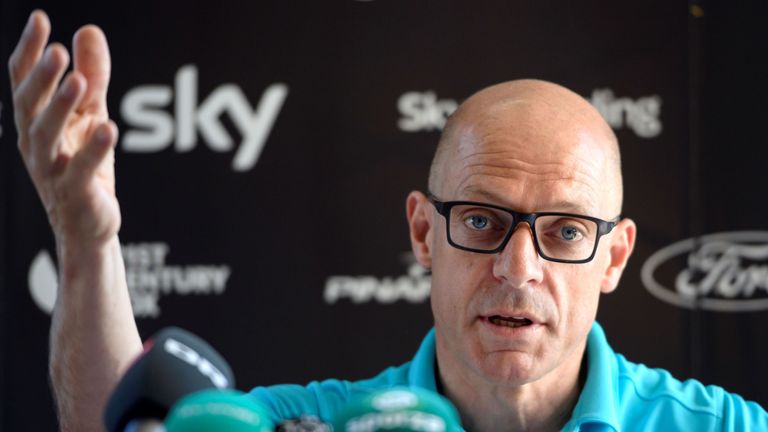 Chris Froome insists he has "done nothing wrong" and has defended his decision to race in the Ruta del Sol, despite being asked by the International Cycling Union to explain elevated levels of Salbutamol found in his urine.
Froome returned an adverse finding of twice the permitted dosage of the asthma medication in a test following Stage 18 of the 2017 Vuelta a Espana, which the British rider won.
The four-time Tour de France champion, who has previously stated that he increased his Salbutamol dosage at the Vuelta on "doctor's advice", says he is determined to prove his innocence to the wider cycling community.
"I know I've done nothing wrong and there's a process in place for me to be able to demonstrate that, and that's obviously what I intend to do," said Froome, who defended his decision to continuing competing while under scrutiny.
"It is not going to go any faster if I was sitting at home. We're going as fast as we can on it now and hopefully we'll get a result as soon as possible."
Team Sky general manager Sir Dave Brailsford insists Froome "stuck within the rules" regarding the use of his inhaler, and believes the British rider is well within his rights to compete in the Ruta del Sol, which began on Wednesday.
About to head to Ruta del Sol.
I want to thank everyone for their support & patience over this difficult period. I am doing my utmost to ensure that things are resolved as speedily as possible.
Can't wait to get this season started!! ??‍♂️??? #64RdS pic.twitter.com/tcyNKUTOIj

— Chris Froome (@chrisfroome) February 13, 2018
"Let's keep a bit of perspective here; what we're talking about is an inhaler," said Brailsford. "It's a puffer. How many times is he allowed to use his puffer? You're allowed to use it 16 times in 24 hours and of course the question here is 'did he use it more than that?'
"The rules aren't about the urine, or the levels in the urine, the rules are about how many times you take your puffer.
"It has been proven that even if you take your puffer less than the amounts which you're entitled to you can excrete more than the threshold in your urine. It has been proven time and time again, it can happen.
"If that does happen, the rules are around the number of times of use and I can guarantee you he hasn't gone over the use.
"We do need to get to the bottom of it, we do need to understand it, but it is not this great calamity of a doping story which people are trying to make out. It is a pretty straightforward scenario.
"Going forward I'm sure we'll be able to demonstrate to everybody that he absolute stuck within the rules."